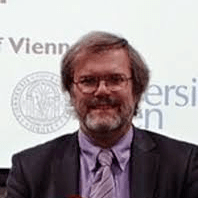 Prof. Erich Schweighofer is Professor of Legal Informatics, International Law and European Law and head of the Centre for Computers and Law at the University of Vienna. He leads the Centre for Computers and Law – one of the top – 10 research groups in Legal Informatics worldwide.
Erich Schweighofer is an international expert in legal informatics and internet governance. He has been involved in many research projects, above all, text analysis, data protection, surveillance technologies and IT security.
He is also one of the main organiser of IRIS – a Legal Informatics symposium – and is also active at OCG, GI, CEPIS, IAAIL, FALM and ICANN, where he is now a member of the EURALO board and theCCWG Accountability.